Microsoft RemoteApp
Microsoft RemoteApp enables an administrator to make programs that are accessed remotely through Remote Desktop Services appear as if they are running on the end user's local computer. These applications are referred to as RemoteApp programs. This means your employees don't know they are working in a virtual environment which makes the desktop more functional for them.
The RemoteApp program runs in its own resizable window, can be dragged between multiple monitors, and has its own entry in the taskbar. This essentially makes it a seamless with other applications running on the computer at that time.
Integrating virtual applications with a users own desktop you save the business the time of loading software independently on particular workstations. Working remotely is becoming a bigger part of the business environment today but the time when it had to be a nuisance is fast departing. With tools like RemoteApp you can have the best of all worlds.
If are thinking about going to RemoteApp for the first time and need consulting help to make an informed decision don't hesitate to call and we'll help. If you already have RemoteApp and you want to change the configuration or are considering updating then it's best to talk to someone with the expertise to help you make an informed decision.
It doesn't matter how much help you need, a little or a lot. Why subject yourself to the hours of work required to fix your RemoteApp tool when we've seen it all before and can solve your issues quickly and easily. Let us take care of the computer problems so you can focus on your core business.
Branch Offices
In many cases a branch office doesn't have a local IT Support team and also has extremely limited bandwidth. This is an ideal situation for RemoteApp. Users gain access to applications seamlessly.
This tool allows your users to access their applications and do their job without having to go through the sometimes painful remote desktop experience.
LOB Applications
Line-of-Business applications are often required for particular jobs within a company. These applications are generally customized to suit a particular workplace. When you need your employees to have access to LOB applications quickly and easily, RemoteApp is a great options.
RemoteApp improves the user's experience, opens new avenues for program deployment, and reduces the amount of administrative effort required to support these programs.
Hot Desk
Many employees don't have a specific work station with an assigned computer. At a service desk a new clerk attends to the needs of clients on a rotating basis. An administer can deploy different versions of an applications based on double-clicking desktop icons.
Instead of being presented to the user in the desktop of the remote terminal server, the RemoteApp program is integrated with the client's desktop, running in its own resizable window with its own entry in the task bar.
RemoteApp for Hyper-V
With this tool an administrator can offer an application seamlessly on their client, which is actually running on a workstation operating system on another platform.
For web developers it can be useful to have an older Internet Explorer version to test their application. As we all know, it is not possible to have more than one Internet Explorer version on one machine. With RemoteApp for Hyper-V it is possible to offer several versions seamlessly for testing purposes.
Remote App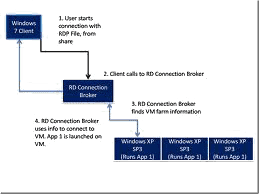 Microsoft RemoteApp – About
RemoteApp can reduce complexity and reduce administrative overhead in many situations.
Top Features
Business Hours:
Monday - Friday: 8am - 5pm
Closed Saturday - Sunday
24 Hour Support Service Available
Service Areas
Disclaimer: Acumen Consulting is an independent service provider of technical service for business networks. We have reseller partner agreements with all of the companies and brands for which we are offering service on acumenitsupport.com. All partner trademarks, registers trademarks, company names, product names, and brand names, are the property of their respective owners. We provide ONLY reseller services for the products listed.