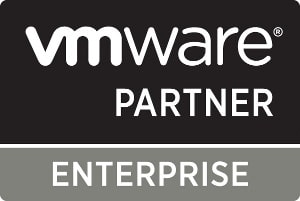 VMware vSphere
Top Features
Vsphere
ESXi
High Availability
Vmotion
Consulting
Design
Implementation
VMware Technology
Based upon the foundational ESXi server and brought to enterprise IT with Vsphere, VMware virtualization provides excellent business ROI. We believe that almost every new server purchase should involve virtualization. If you haven't begun to virtualize with VMware, you should seriously consider it.
The modern network is a virtualized network and VMware is an industry leader. With a virtual solution your network is under much greater control of your technicians. Hardware costs are dramatically reduced and system monitoring is many times easier. In the modern business environment almost every new network built will have at least some virtual components and is often completely virtual.
While a virtual network provides huge advantages there are obstacles as well. It's not easy to setup a virtual network and there are many settings to take into account. Our technicians work with virtualized networks using VMware almost every day. We have designed them from scratch as well as updated existed virtual networks. If you need an entirely new virtual environment, if you need to update your existing environment, or if you simply need some help with a few VMware settings we're here for you.
Don't hesitate to call us if you need help. We're here and our team is ready to help you with whatever you need; be it major help or just the solution to a small problem. For help right now, call right now.
Cloud Computing
Businesses today depend upon IT to drive innovation. Increasingly cloud computing enables business to deliver new services, enter into new markets, get closer to customers, and make mobile employees more productive

The most successful organizations use the cloud as a catalyst to put in new systems and processes that free IT organizations to maximize business results.
Management
It's vitally important to understand and control IT costs, services and quality.

Automating formerly manual processes provides you with time to attend to other IT support issues.
Virtualization
Virtualization makes for a simplfied and efficient infrastructure.

Applications get deployed faster, performance and availability soar, and operations become automated resulting in IT that's easier and less costly to own and manage.
Applications
vFabric Suite is a lightweight, scalable, integrated suite designed for data-intensive custom applications.

Optimized for the open source Spring Framework vFabric is ideally suited for VMware vSphere virtual infrastructure and provides a clear pathway to the cloud for your custom applications.
What Rob Says
VMWare is one of the many virtualization products on the market and an excellent choice for any company thinking about moving to this network model. We think it's the right solution for many business models.
Rob
CEO Acumen Consulting
Business Hours:
Monday - Friday: 8am - 5pm
Closed Saturday - Sunday
24 Hour Support Service Available
Service Areas
Disclaimer: Acumen Consulting is an independent service provider of technical service for business networks. We have reseller partner agreements with all of the companies and brands for which we are offering service on acumenitsupport.com. All partner trademarks, registers trademarks, company names, product names, and brand names, are the property of their respective owners. We provide ONLY reseller services for the products listed.