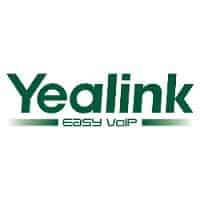 Yealink Phones
Yealink Accessories
Top Features
Excellent IP Phones
Perfectly matched accessories
Gigabit technology
Color panels
Yealink Phones
Modern businesses need IP phones and Yealink phones ensures that people are able to connect and co-operate easily from their desktops, classrooms, meetings, conferences and mobile devices. Yealink offers an excellent variety of phones for any business and provide standard-based solutions companies.
If you are interested in delivering a fast return on investments. If you want to cut the time, costs, and carbon emissions associated with bringing people together. If you want to save valuable resources, energy and unproductive journey times. Then Yealink makes good business sense.
We've been installing, configuring,and maintaining IP phones for years and if you are thinking about a new phone network, upgrading your existing phones, or simply setting up and configuring what you already have; then we're the experts for you.
Our technicians will ensure your phones are properly installed and taking advantage of all the features Yealink phones have to offer. It doesn't matter what kind of phone system you have now. You should consider an upgrade. The technology is changing fast and YeaLink is on the cutting edge.
Call today and we'll help you determine if you need a new phone network, if you simply need to tweak your existing network, or simply answer a few questions. It doesn't matter how big or small the issue. Give us a call and we start work solving it.
Phones
The Yealink T4 series is intended for discerning users with high expectations of IP phones. They're designed specifically for people who want to experiencing excellence.
Other Products
Yealink's accessories are are designed to be integrated with other Yealink products in extremely efficient combinations.
What Rob Says
Yealink provides some of the best quality IP phones on the market and should at least be considered for any business network
Rob
CEO Acumen Consulting
Business Hours:
Monday - Friday: 8am - 5pm
Closed Saturday - Sunday
24 Hour Support Service Available
Service Areas
Disclaimer: Acumen Consulting is an independent service provider of technical service for business networks. We have reseller partner agreements with all of the companies and brands for which we are offering service on acumenitsupport.com. All partner trademarks, registers trademarks, company names, product names, and brand names, are the property of their respective owners. We provide ONLY reseller services for the products listed.