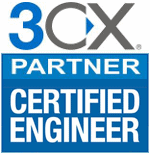 3CX Phone System
VOIP Phone Systems
Top Features
Free
Easy to use
Plug and Play
SIP – IP PABX for Windows
Windows, Android, iPhone
Remote Extensions
3CX Partner
St Louis
We're proud to be a 3CX Partner.  3CX is the number one Windows-based IP PBX. When it comes to phone systems, we think 3CX provides an excellent, simple VoIP phone system for businesses. 3CX provides an easy to manage system that takes the complexity out of phone system configuration.
Implementation and Consulting
VoIP phone systems are the modern IP PBX. If you need to replace your current phone system, call us at 314.333.3330

Ask us anything about VoIP phone systems, even if it's a simple question. We'll help you plan your install, configure your phones, or just provide maintenance. We're here to help as little or as much as you need.
How to Purchase
We can help you purchase the best 3CX Phone system for your business. It's not always easy to pick out the phone system that is going to work best with your business.

When it comes to making sure you have the most ideal system for your business, we can help. It's easy to over-purchase a system, but it's also easy to buy a system that can't be easily upgraded as you grow. Let us help make sure you don't make either of these mistakes!
Supported Phones
3CX supports all the major VoIP phone systems, including Cisco, Polycom, Yealink, Snom, and 3CX softphone.

The flexibility of 3CX is absolutely tremendous and one of its best features. Use the provider you want when you want.
Hotel Billing
On top of their paid software platforms, administrators can add the 3CX Hotel Billing or the full-blown Hotel PMS integration module to easily integrate Hotel PMS platforms with 3CX.

This sort of automation is going to soon dominate the VoIP market, and 3CX is on the forefront.
SmartPhone Apps
3CX offers and fully supports a soft-phone application, specifically designed for Androids, and is testing a new app for Apple products, such as the iPhone, iPod, and iPad.

The ability to use an application to directly support whatever Smartphone your employees own is an important consideration when thinking about your VoIP phone system. 3CX offers the solution.
Exchange Outlook Integration
Microsoft Exchange Server 2007 and Exchange 2010 feature unified messaging capabilities that can be fully integrated with 3CX Phone System for Windows.

With this integration, the 3CX IVR system is replaced by the voice mail server and auto attendant system included in Microsoft Exchange Server 2007 / 2010. The integration is quite straightforward.
What Rob Says
When it comes to VoIP business phone service we work with a variety of different solutions. If you're on a budget we think 3CX provides the single best solution for you. We use them ourselves. What more do you want to know?
Rob
CEO Acumen Consulting
Business Hours:
Monday - Friday: 8am - 5pm
Closed Saturday - Sunday
24 Hour Support Service Available
Service Areas
Disclaimer: Acumen Consulting is an independent service provider of technical service for business networks. We have reseller partner agreements with all of the companies and brands for which we are offering service on acumenitsupport.com. All partner trademarks, registers trademarks, company names, product names, and brand names, are the property of their respective owners. We provide ONLY reseller services for the products listed.