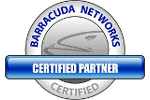 NG Firewall
Firewalls
Link Balancer
Load Balancer
SSL-VPN
Web Filter
Top Features
Spam Reduction
World class firewalls
Faster applications
Protects your data
Virus protection
Web application security
Barracuda Security
What is a firewall? Barracuda pretty much defines the idea. They make a world class line of spam and virus firwalls, email security tools, web filters, application firewalls, load balancers, and SSL VPNs. If you are getting unsolicited emails, or Spam, then you need Barracuda spam protection. We think their products are tremendous and use them here at Acumen.
When it comes to unwanted email, your network is constantly bombarded, and it becomes difficult for your local IT support team to manage this volume. They're busy enough with other network issues. Our Barracuda team will watch all the email that come into your site and make sure you aren't overwhelmed with spam. If you need an email from a particular customer, we'll Whitelist them, and the message will always get through.
If you are getting spammed by particular entities, we'll blacklist them so you're never bothered again.
We can help plan your Barracuda security technology so that you don't overspend for the size of your business. If you just want to install the devices you've already purchased, we can help with that as well. Maybe you just want some configuration advice or a solution to a particular problem. We're here to provide you with whatever support you need, be it a lot or a little.
When you have a problem call now and we'll get started now. It's that simple.
Keyword: barracuda st louis
Security
A firewall is simply a tool to keep the outside world … outside. You are bombarded with tens of thousands of unsolicited emails every single day. Many of these are virus laden. You don't want to risk someone clicking them. That's a firewall's job.

Ask one of our techs to show you a Barracuda spam report. You'll be stunned at the volume.
Load Balancing
Your network undergoes various stresses over the course of days, months, and years. The ability to analyze the amount of traffic and transfer volume to less used paths is called load balancing. It is a key component of a smooth running network.

When the network is running right, we don't get any calls. We like that.

Barracuda is well-known for their firewalls and security tools, but their load balancers are world class as well.
SSL VPN
Your VPN connection must be secure and when it comes to security, Barracuda is the name.

Barracuda produces a line of SSL VPN appliances to help your users easily get to their data and prevent unwanted intrusion. You have to have both.
What Rob Says
We've been working with Barracuda for a long time and we love the simplicity of their firewalls. Email protection is too much for most in-house IT support staffs. We'll do it for you and at the right price.
Rob
CEO Acumen Consulting
Business Hours:
Monday - Friday: 8am - 5pm
Closed Saturday - Sunday
24 Hour Support Service Available
Service Areas
Disclaimer: Acumen Consulting is an independent service provider of technical service for business networks. We have reseller partner agreements with all of the companies and brands for which we are offering service on acumenitsupport.com. All partner trademarks, registers trademarks, company names, product names, and brand names, are the property of their respective owners. We provide ONLY reseller services for the products listed.