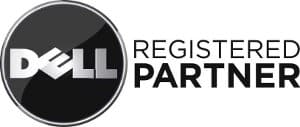 Dell Storage
Dell Servers
Top Features
Laptops
Desktops
Servers
Monitors
Printers
Dell Equipment
Dell makes state-of-the-art computers for personal use all the way up to enterprise business solutions. They've been a go-to name in the computer industry for many years, and we're proud to be partners. Hardly a day goes by without us ordering something from Dell for one of our customers.
If you are a small business in need of computers, we can get you the right machines at the right price. They have a full-line of computers that are designed for everyone, from the casual user to the business heavy office worker. It all depends on what sort of work you do. With Dell, there is always going to be a computer that does the job you need at the price you like.
Not every company needs to come to us for all their computer and network needs. We understand. If you are just buying a single computer for the office or you are upgrading your entire network, we're here to help. We will make sure you get the right computer equipment for the job you are trying to do and at the right price. We'll setup the new machines so that you don't lose any of your current information.
It's not easy running a business, and when you have to make all the network and hardware decisions, that just adds onto the workload. Call us, and we'll analyze your current situation and make a plan to move forward.
Why wait when something is wrong? Call now for help.
Keyword: dell st louis
Computers
If you need a laptop, a desktop, an ultrabook, a tablet, a thin-client or anything that hasn't even been invented yet, Dell is your company. They stand behind their product and provide outstanding service.

We order Dell computers for our clients all the time, and on the rare occasions, there is a problem, but it's no problem. Dell takes care of us.
Monitors
Not everyone realizes that Dell has a full-line of monitors available for any desktop solution. Everything from less than 20″ to more than 27,″ including built-in dual-monitor solutions. If you haven't shopped Dell monitors, you haven't shopped.

When it comes to a complete solution, it's often best to go with one company. Dell provides you with one-stop shopping for all your computer needs, whether you're a big business or just one person.
Printers
High volume office printer or low volume home printer, it doesn't matter to Dell. They have an excellent line of printers, including all-in-one inkjets and laser printers of all types.

We order Dell printers for our clients all the time. Not everyone thinks of Dell when it comes to printers, but they are always happy with the final product. Great staff, great support: that's Dell.
For Work
Dell also makes a top-quality line of Servers, Storage Devices, Networking gear, and security tools.

When it comes to great computer equipment, Dell is there for the office as well as the home.
What Rob Says
I work more on the IT network side than with individual components but there never seems to be anyone coming to me with a problem with Dell. They must be doing something right!
Rob
CEO Acumen Consulting
Business Hours:
Monday - Friday: 8am - 5pm
Closed Saturday - Sunday
24 Hour Support Service Available
Service Areas
Disclaimer: Acumen Consulting is an independent service provider of technical service for business networks. We have reseller partner agreements with all of the companies and brands for which we are offering service on acumenitsupport.com. All partner trademarks, registers trademarks, company names, product names, and brand names, are the property of their respective owners. We provide ONLY reseller services for the products listed.