Barracuda Spam and Virus Protection at its best
The amount of unwanted email that tries to enter your network every second of every day is immense. Spam and Virus Firewall (SVF) tools like the Barracuda Spam and Virus firewall intercept such messages so that you never see them. Many of these messages are virus laden. Without Spam and Virus Protection you are vulnerable.
Every unwanted email in your system is one that distracts an employee. The more your spam firewall blocks the better. It's not so easy though and someone has to install and configure your anti-spam tool to make sure good messages are getting through. It's a never ending battle but the Barracuda Spam and Virus Firewall is here to help and so are we!
We'll not only get you properly setup but our technicians will watch your incoming traffic and make certain that messages you want are coming in. Through the process of White Listing and Black Listing we can ensure that you get all the email you want and none of the email you don't want.
It's a never-ending battle as the spammers change their methods to defeat spam and virus protection tools. That's why the software is updated constantly to take into account these new risks. It's not enough to simply install a system and forget about it. Our trained technicians will ensure your Spam and Virus Protection is up-to-date and working properly at all times. It It only takes a single virus to cause you untold amounts of damage.
If you don't have Spam and Virus Protection you must call today and we'll get started setting it up immediately.
Spam Protection
What is spam? It's unwanted email. Every single email that comes through your system is something that slows down your network and distracts your employee. Unwanted messages account of upwards of 70% of all emails.
To block spam effectively you need a powerful anti-spam tool. Barracuda is that spam firewall and more. If your technicians are too busy to monitor the tool we provide support. We can install and deploy your Barracuda firewall and monitor it or do one or the other. If you are swamped with spam, call and we'll consult with you on the best way forward.
Virus Protection
What is virus protection you might ask? It's at the heart of network security. Every spam message that comes into your system is a potential threat. With the Barracuda Spam and Virus Firewall we block spam before you see it.
Spam is the primary way a virus enters your network. It's easy for people to click an attachment. Don't give them the chance. Let your spam firewall block it before it gets in the doorway. If you effectively block spam you limit your vulnerability to infection.
White List and Black List
One of the most problematic features in trying to block spam is that the people sending such messages are clever. They find new ways around anti-spam tools like the Barracuda spam firewall. Your spam firewall solves this through efficient use of blacklisting and whitelisting. A blacklisted source means that nothing from it gets through, even if it looks normal. A whitelisted source means everything from it gets through, even if it looks suspicious.
Whitelisting and blacklisting are effective anti-spam tools that make certain you are getting the messages you need to get and blocking spam at the same time. It's a never ending battle and we can help support your business. Most IT support staffs are overwhelmed long before they get to configuring the spam firewall. We can help, we provide Barracuda anti-spam services for our clients. Call now to find out more.
Encrption
In addition to the traditional spam and virus issues there is also the matter of email security. Once an email leaves your network it is subject to the security of someone elses network. You have no control over that. Encryption is vitally important when dealing with important company information.
We will help configure your Barracuda SVF so that your email is secure. If you need to use the feature, don't wait. Start now. It's never too soon to implement good encryption security to your email.
Barracuda Spam Protection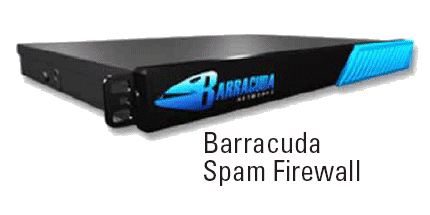 Barracuda – block spam permanently
Spam is a funny word. It's not a funny problem. It overwhelms your IT support staff, it cuts down on productivity, it is virus laden. Don't put up with it. Call us to help install and deploy your syste, or simply provide consultation and support!
See our Firewall Hosting page for more information!
Top Features
Related Technology
Business Hours:
Monday - Friday: 8am - 5pm
Closed Saturday - Sunday
24 Hour Support Service Available
Service Areas
Disclaimer: Acumen Consulting is an independent service provider of technical service for business networks. We have reseller partner agreements with all of the companies and brands for which we are offering service on acumenitsupport.com. All partner trademarks, registers trademarks, company names, product names, and brand names, are the property of their respective owners. We provide ONLY reseller services for the products listed.