Zix Email Encryption
Many of the nation's most influential institutions turn to ZixCorp Email Encryption Services as an important provider for protection of their sensitive email data. We are authorized reseller of ZixCorp Email Encryption and offer the best prices available. See our Zix Store to purchase and learn more. 
Leading healthcare, financial, government and insurance organizations use ZixCorp to help them meet mandatory regulatory requirements and protect customer privacy in all their email communications. Encrypted email is secure email.
In the modern business world you can't afford to have insecure emails passing through various servers around the world as they move from your server to their destination. With ZixMail your employee's important emails are securely delivered with Email Encryption to their target. No one else can read the emails and this level of security is vital when you are dealing with important clients, vendors, and government regulations.
Zix Email Encryption is a cost-effective way to meet all your security needs. If you aren't currently using Email Encryption please call us today and we can explain how easily it can be done and at what cost. Our technicians can get your Zix Email Encryption installed and running seamlessly so your employees won't even know there is a difference. Call today and we can get started now.
Send to Anyone Security
ZixMail makes it simple to securely send and receive confidential information via an encrypted email. Encrypted messages are delivered using your existing email address, and a single ZixMail client can support multiple email addresses.
ZixMail also provides time stamping and authentication for irrefutable proof of delivery and receipt.
Outlook Plugins
Users of Microsoft Outlook will be happy to know that ZixCorp provides a special ZixMail plug-in so you can send and receive encrypted email without ever leaving Outlook.
The plug-in integrates the ZixMail functionality directly into Outlook's ribbon. The simple click of a button is all it takes to encrypt or decrypt a message.
Automated Key Management
ZixMail seamlessly takes care of key management so you don't have to. With ZixMail, all key management is handled through ZixDirectory, ZixCorp's hosted public key repository.
With Tens of millions of members in the ZixDirectory is easy for ZixMail users to automatically send and receive encrypted emails from other ZixMail or ZixGateway customers. No key set-up or exchange is necessary.
Email Security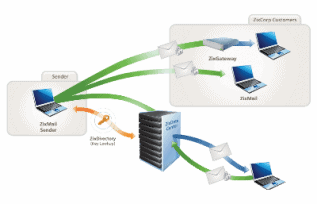 ZixCorp Email Encryption
If you are required to provide email encryption then ZixCorp is your one-stop solution center. If you are not required to provide email security you should probably be doing it anyway.
Top Features
Seamless Email Encryption

Time Stamping and Authentication
Related Technology
Customers Receiving Support:
BUSINESS HOURS
Monday – Friday: 8am – 5pm
Saturday – Sunday: Closed
24 Hour Support Service Available
Use red "Contact Us" button (right)

Use red "We are online" button (bottom)
Disclaimer: Acumen Consulting is an independent service provider of technical service for business networks. We have reseller partner agreements with all of the companies and brands for which we are offering service on acumenitsupport.com. All partner trademarks, registers trademarks, company names, product names, and brand names, are the property of their respective owners. We provide ONLY reseller services for the products listed.