Zabbix Monitoring
Zabbix is a scalable monitoring tool that can scale to thousands of devices. Both agent and agentless monitoring is supported. It also provides a distributed monitoring model. Agents can check-in with a local server that forwards the data to the central server.
Zabbix Monitoring supports its agents, Simple Network Management Protocol (SNMP) requests, and can receive both syslog messages and SNMP traps. Checks include memory usage, CPU utilization, disk consumption, and many other internal metrics.
As SNMP experts, we can help you configure complex and undocumented SNMP MIBs. Zabbix Monitoring provides active maps that can summarize and clarify complex network environments. Auto-discovery can identify all the devices on your network and automatically add them to the host library.
Operating Systems supported include Windows, Linux, AIX, HP-UX, and Solaris. We find the web support to be a great monitoring tool for modern web-based applications. Alarms can be configured to send an email if a web server response becomes slower than normal, or has incorrect content. There are many monitoring technologies on the market. Zabbix Monitoring is a strong contender.
Monitor Everything
Zabbix monitors everything inside your network: Performance Servers, Web Applications, Databases, Networking Equipment and more
We use Zabbix here for many system monitoring tasks and we think you should as well.
Enterprise Ready
Zabbix is supports everything from small to large environments. This means it's perfect for a small business but can grow with you.
The ability of your network tool to grow with your company is an important factor. You don't want to go out and retool everytime you grow. With Zabbix, you won't have to.
Proactive Monitoring
Forwarned if forearmed. In other words, with this network tool you set the parameters and know when a dangerous situation is arising. You can take action before disaster strikes.
We think this is the most important part of any network tool's tasks. You need to know what stresses your network is facing and when limits are being approached. Then you can avoid disaster.
Capacity Planning
As your business grows so does the strain on your network. With the planning tools available in Zabbix you can plan the growth of your business and be able to predict the future and apply the financial resources more accurately.
Growing too quickly is a major problem that many people don't consider. A good network tool can help you understand not only the stresses your network faces today but those that will arise with heavier traffic.
True Open Source
Open-source softare means that it is being developed by a group of IT support professionals. It is free to use and modify and there is no vendor lock-in.
If you're not using a system monitoring tool then you have nothing to lose by installing Zabbix. We use it and love it.
Zabbix System Monitoring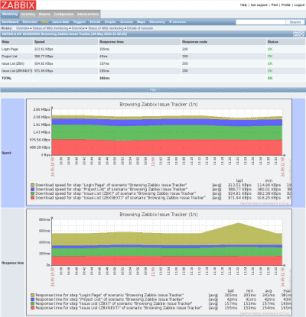 Zabbix – a network tool for you
Free, no contract, easy to use, easy to install. There is no reason you shouldn't at least give Zabbix a try.
Top Features
Enterprise to Small Business
Related Technology
Customers Receiving Support:
BUSINESS HOURS
Monday – Friday: 8am – 5pm
Saturday – Sunday: Closed
24 Hour Support Service Available
Use red "Contact Us" button (right)

Use red "We are online" button (bottom)
Disclaimer: Acumen Consulting is an independent service provider of technical service for business networks. We have reseller partner agreements with all of the companies and brands for which we are offering service on acumenitsupport.com. All partner trademarks, registers trademarks, company names, product names, and brand names, are the property of their respective owners. We provide ONLY reseller services for the products listed.