WireShark – open source system monitoring
WireShark is an open-source network troubleshooting tool built and maintained by a huge group of IT support professionals and freely available to the public. It is a multi-platform tool that can be easily installed on just about any system. We work with this packet analysis tool all the time and love it. We think you will too!
If you are a small business operation and can't afford the high price of a commercial network monitoring system then you should seriously consider WireShark. It's an Open Source tool designed to provide a high-level of monitoring for a reasonable price. It's perfect for many of a our small business customers who don't want all the features of a full-service network monitoring tool.
Because we work with many clients with different network monitoring systems it's easy for us to determine if WireShark is right for you. We'll analyze your current network and come up with a solution that fits your budget and time constraints. Often times that means WireShark.
If you already have WireShark but need some consulting for settings, configuration, maintenance, and upgrades; we're happy to help with those as well. We don't care if you want a long-term Managed Service solution or a just a one-time emergency session. Our technicians are ready to help. Don't suffer. 
Open Source
It's free and open-source. Enough said. This open-source network troubleshooting tool offers huge advantages beyond the cost. It is constantly updated by a loosely knit team of professionals which makes it nimble and able to react to new situations quickly.
For a business with a smaller IT support budget we can't recommend WireShark enough. It's powerful, free, and getting better every day.
Multi-Platform
Like most open-source programs this network troubleshooting tool is platform independent. The version you need is out and available. For advanced Packet analysis and sniffing you want a network troubleshooting tool that is flexible enough to deploy on any machine on your network.
We love the multi-platform nature of this network troubleshooting tool because we can install it easily on any client's network and begin our packet analysis and sniffing immediately.
Deep Inspection
Because of the open-source nature of this network troubleshooting tool updates are being made constantly. If you need a network tool that performs packet analysis with high-level sniffing for a particular protocol then the chances are WireShark is the one.
The ability to choose which network protocol you want to perform a packet analysis on is a powerful advantage. Open-source network troubleshooting with WireShark means those protocols are updated quickly to meet with new questions that arise.
WireShark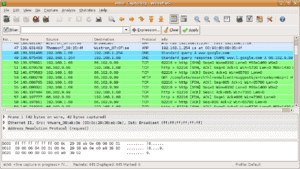 WireShark – network tool
This open-source network troubleshooting tool is free, updated by thousands of IT support professionals constantly, platform independent, and easy to install. We use it and you should also. When it comes to packet analysis and network sniffing at a great price, there is no competition.
Top Features
Related Technology
Business Hours:
Monday - Friday: 8am - 5pm
Closed Saturday - Sunday
24 Hour Support Service Available
Service Areas
Disclaimer: Acumen Consulting is an independent service provider of technical service for business networks. We have reseller partner agreements with all of the companies and brands for which we are offering service on acumenitsupport.com. All partner trademarks, registers trademarks, company names, product names, and brand names, are the property of their respective owners. We provide ONLY reseller services for the products listed.