McAfee Enterprise Firewall – SideWinder
McAfee Firewall Enterprise, previously known as the Secure Computing Sidewinder Firewall, helps defends your critical assets. This powerful security tool has many different settings and it's important to get it setup properly for your network environment.
This network security tool works to identify potential anomalies and threats throughout the interior of your network. With many automated features it's an ideal tool to guard your network at all times. However, this plethora of features means that you need to configure it properly our you won't be getting the information you need in a timely fashion. We wrote the book on McAfee Firewall Enterprise and our technicians teach the class as well.
Security is a vital component of any network in the modern business world and it doesn't matter if you're "just" a small business. Any breech of security can result in hours of recovery which costs you money. With McAfee Firewall Enterprise you reduce the possibility of attack and that's a good thing.
If you are currently without a firewall or want to switch to McAfee Enterprise Firewall go ahead and call us today. Our technicians will get to work right now to solve your issues, big or small.
Security Consolidation
The network firewall is in charge of security. Scalable, Geo-location, encryption, anti-malware, anti-virus, web filtering, network intrustion prevention and more.
The McAfee Entrprise Firewall tool brings together all the McAfee security tools you need into a single package.
Compliance
With McAfee Enterprise Firewall you can establish control over network applications and ensure you are in compliance.
Administrators can quickly and efficiently apply application and user-based policies written in business terms. You will gain visibility into new rules that might impact existing rules thus avoiding conflicts and duplication.
Integration
It's easy to align McAfee Enterprise firewall security rules directly with your organizational policy statements. Integration with existing network identity infrastructure simplifies deployment while aligning network security with the organization system of record.
With McAfee's Network Integrity Agent, the firewall shows you who initiated a session and also identifies the host application they used to start the session. This provides visibility into potential anomalies and threats within your network.
Rules Management
With McAfee Enterprise Firewll you gain the ability to centrally manage multiple firewalls regardless of software version, virtual or physical firewalls, or different platforms. You can also generate reports, create rules, and selectively apply antivirus, IPS signatures, and provide URL filtering all from a single screen.
With McAfee's SIEM solution you are provided with customizable views and reports for all of the firewalls within your organization.
Sidewinder – Enterprise Firewall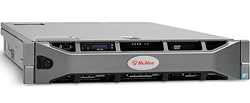 McAfee Total Protection
McAfee Enterprise Firewall, or Sidewinder, gives you regulated data repositories, email and web servers, extranets, and data centers. It offers strong next-generation firewall capabilities, including application visibility and deep application controls for defense. In short, McAfee Enterprise Firewall delivers all you need to ensure your network security.
Top Features
Customers Receiving Support:
BUSINESS HOURS
Monday – Friday: 8am – 5pm
Saturday – Sunday: Closed
24 Hour Support Service Available
Use red "Contact Us" button (right)

Use red "We are online" button (bottom)
Disclaimer: Acumen Consulting is an independent service provider of technical service for business networks. We have reseller partner agreements with all of the companies and brands for which we are offering service on acumenitsupport.com. All partner trademarks, registers trademarks, company names, product names, and brand names, are the property of their respective owners. We provide ONLY reseller services for the products listed.