Paessler – PRTG network tool
Their motto is Networking for Serious Professionals and we agree. Paessler Network monitoring (PRTG) is a top-flight system monitoring tool used to make sure your network is running at peak efficiency all the time.
With many interface options and comprehensive network monitoring PRTG is a great solution to your network monitoring needs. Our technicians work with it and love it. Let us help install, configure, and start monitoring today. You won't regret it.
With Paessler network monitoring you have many options and we can help configure the tool to the unique needs of your network. Every business is different and with so many options it's not always easy to get your Paessler network monitoring tool setup in an optimized fashion. Network monitoring is key to any modern business system because it allows you to anticipate problems and implement solutions before disaster.
If you don't get your Paessler network monitoring configured properly then you run the risk of issues that take hours or even days to solve. Our team of expert technicians works with a variety of companies from small businesses to enterprise endeavors. We know PRTG inside and out and will help you install, configure, and maintain the tool for your company.
It doesn't matter if you just have a single question or are more interested in our Managed Services with a monthly fee that doesn't stress your budget. We're here to help you when you need it. Don't waste valuable time trying to solve issues when you can call us today and get help right now.
We're a proud reseller and partner of the Paessler Network Monitoring tool. See PRTG Store for prices that can't be beat!
Excellent Interfaces
With a web interface, a simple html interface, a console, and an interface for apps this network tool allows you to see your information anytime, anywhere.
We are working twenty-four hours a day on our phones, tablets, and computers. This network tool allows you to see your data in a variety of ways depending on the situation. We love it.
Comprehensive Monitoring
Over 150 sensor types including uptime/downtime, bandwidth, application monitoring, virtual server monitoring and more. The tool does it all.
Anytime a tool does everything it's going to be complex. Let us help you understand what it can do and how it can help.
Flexible Alerts
With status alerts, limits alerts, threshold alerts, multiple condition alerts, escalation alerts, alert dependencies, and alert scheduling this network tool is perfect. That's it. Perfect.
All network tools provide some sort of alerting, we just think PRTG is a system monitoring tool that allows for every kind of alerting you can dream up. That's important. No one knows what's the most important thing on your network except you.
PRTG Cluster Failover Solution
This five node system means the network tool is always monitoring your system. If one node goes down the others take over.
If your worried about downtime and your network tool is down, that's a problem. With PRTG that will not happen.
Distributed Monitoring Using Remote Probes
As a company grows they begin to have multiple networks that need system monitoring. With PRTG you can all your networks, all your subsidiaries, and any customer networks as well.
PRTG will grow with your company. It's a network tool that works for small companies and enterprise industry. We'll help you design, install, and configure PRTG so that it is optimal for your sized network.
Data Publishing and Maps
Real-time dashboards are a must for the busy professional in this high-speed environment. It's not easy to understand all the information an network tool is giving you and dashboards are the solution.
Sometime the person looking at the network tool isn't a IT support expert. We can set up PRTG and then turn it over to your team with dashboards in place. If something difficult arises we're always here for IT support.
In-Depth Reporting
It's one thing to get real-time analaysis from your system monitoring network tool but it's also vital to get flexible reports that show you trends over time. These reports can easily be exported as .pdf and .html.
It's one thing for your network tool to monitor the system, another to put those into comprehensive reports that allow your IT support team to take preventative action before disaster strikes.
PRTG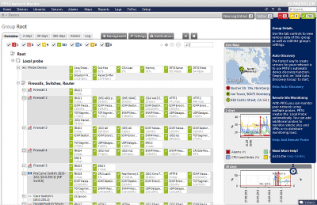 PRTG – why it's for you
When it comes to system monitoring then PRTG is a top-tier network tool. It does everything you want and more. Start small and let it grow with your company. We use it and we think you should also.
Top Features
Related Technology
Customers Receiving Support:
BUSINESS HOURS
Monday – Friday: 8am – 5pm
Saturday – Sunday: Closed
24 Hour Support Service Available
Use red "Contact Us" button (right)

Use red "We are online" button (bottom)
Disclaimer: Acumen Consulting is an independent service provider of technical service for business networks. We have reseller partner agreements with all of the companies and brands for which we are offering service on acumenitsupport.com. All partner trademarks, registers trademarks, company names, product names, and brand names, are the property of their respective owners. We provide ONLY reseller services for the products listed.