When you try to export a SharePoint list you get an error messages saying it can't be done.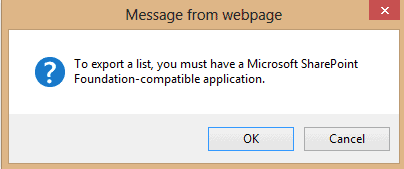 "To export a list, you must have a Microsoft SharePoint Foundation-compatible application."
Searching this error message easily finds the root of the problem. There is a problem with the Office 64 bit version. It doesn't work with SP. These solutions generally tell you to uninstall your 64 bit office and install a 32 bit version. Happily there is a much easier solution.
Despite the error message the export actually works! Notice the yellow bar at the bottom of your browser. Simply save the .iqy file normally and open it with Excel. It's that simple. The error message is certainly a nuisance but does not actually stop the export.


See our IT Services Page for more information on ways we can help you!
For more information about Microsoft, visit the Official Site:
https://www.acumenitsupport.com/wp-content/uploads/2020/07/Acumen-Logo-2012transparent-300x136.jpg
0
0
Dave Mueller
https://www.acumenitsupport.com/wp-content/uploads/2020/07/Acumen-Logo-2012transparent-300x136.jpg
Dave Mueller
2013-08-23 10:20:11
2018-07-17 15:59:52
HOWTO: Export a list with SP