Autodesk Revit Support
Autodesk Revit is building information modeling software for architects, structural engineers, MEP engineers, designers, and contractors. It allows users to design a building and structure and its components in 3D, annotate the model with 2D drafting elements and access building information from the building models database. This AutoDesk software is 4D BIM capable with tools to plan and track various stages in the building's lifecycle, from concept to construction and later demolition.
Modeling
The modeling environment allows users to manipulate whole buildings or assemblies or individual 3D shapes. Modeling tools can be used with pre-made solid objects or imported geometric models.
Rendering
When a user makes a building, model, or any other kind of object in the software, they may use its rendering engine to make a more realistic image of what is otherwise a very diagrammatic model.
Programming
The programming feature provides an API that includes a built-in macro development IDE based on SharpDevelop. External commands can be implemented by including .NET add-ins.
Revit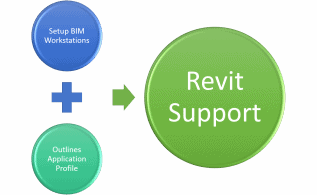 About Revit Support
We support Revit to make sure your employees are able to do their job quickly and without network issues.
Top Features
Setup Installations on BIM Workstations

Outlines Application Profiles
Related Technology
Business Hours:
Monday - Friday: 8am - 5pm
Closed Saturday - Sunday
24 Hour Support Service Available
Service Areas
Disclaimer: Acumen Consulting is an independent service provider of technical service for business networks. We have reseller partner agreements with all of the companies and brands for which we are offering service on acumenitsupport.com. All partner trademarks, registers trademarks, company names, product names, and brand names, are the property of their respective owners. We provide ONLY reseller services for the products listed.