IT Storage Solutions
We design, build, upgrade and install computer storage systems and servers using the latest equipment and software. Through ongoing research and development activities in our lab environment, we analyze disk performance metrics and build high performance disk systems at the best possible price.
We manufacture, warranty, install and configure customized SAN solutions with RAID technology for iSCSI targeting and failover clustering in virtual server environments.
Your storage system is integral for your network, and we can help at any stage of the process. If you want to investigate new storage systems, upgrade an existing system, configure your storage, perform offsite backup, or just troubleshoot an existing problem, we're here to help.
There are a lot of options when it comes to IT Storage systems, and you must take into account your business requirements or you'll end up with a system that doesn't fit your needs. Our team of experienced technicians don't offer cookie-cutter solutions to your storage needs. We'll come out and evaluate not only your current situation but your plan for growth. We'll make sure your storage systems work for your company as it currently exists but can be scaled up quickly and easily as you grow. Our virtual storage solutions mean you don't have to worry about growing too quickly. We'll add extra storage when you need it, not before.
Call today!
STORAGE AREA NETWORKS (SAN)
An IT storage solution area is a dedicated network that provides access to consolidated, block level data storage. SANs are primarily used to make storage devices, such as disk arrays, tape libraries, and optical jukeboxes, accessible to servers so that the devices appear like locally attached devices to the operating system.
See our Cybernetics Page for information about our favorite SAN solution!
NETWORK ATTACHED STORAGE (NAS) DEVICES
Network-attached computer storage is file-level computer storage connected to a computer network, providing data access to heterogeneous clients. NAS not only operates as a file server, but it's specialized for this task either by its hardware, software, or configuration of those elements.
NAS is often made as a computer appliance – a specialized computer built from the ground as an IT storage solution – rather than simply a general purpose computer being used for the role. NAS is convenient and gaining in popularity.
MICROSOFT WINDOWS STORAGE SERVERS
Windows Storage Server 2003, a part of the Windows Server 2003 series, is a specialized IT storage solution server operating system for Network Attached Storage. It is optimized for use in file and print sharing and also in computer Storage Area Network scenarios.
A computer storage solution that's built by Microsoft for Windows has advantages. Let us help you decide if this is the right IT storage solution for you.
SAN REPLICATION FUNCTIONALITY
Active (real-time) storage replication is an IT storage solution usually implemented by distributing updates of a block device to several physical hard disks. This way, any file system supported by the operating system can be replicated without modification, as the file system code works on a level above the block device driver layer.
This computer storage solution is implemented either in hardware by a disk array controller or in software by a device driver.
Storage Solutions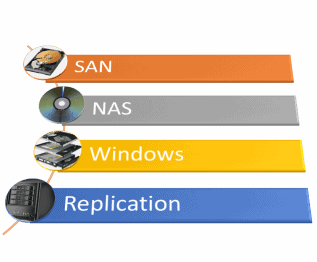 Computer Storage for You
Your data is absolutely vital to the day-to-day operations of your business. Any IT storage solution must seamlessly work with your network to deliver data to your employees. It must include computer storage solutions so that your IT support staff can recall the data after disaster.
You must take configuration of you storage solutions seriously and have a comprehensive plan or you risk disaster. Call today and we'll help you understand this critical concept.
Top Features
Related Technology
Business Hours:
Monday - Friday: 8am - 5pm
Closed Saturday - Sunday
24 Hour Support Service Available
Service Areas
Disclaimer: Acumen Consulting is an independent service provider of technical service for business networks. We have reseller partner agreements with all of the companies and brands for which we are offering service on acumenitsupport.com. All partner trademarks, registers trademarks, company names, product names, and brand names, are the property of their respective owners. We provide ONLY reseller services for the products listed.