Servers – Computer Server Solutions
Your computer servers are the backbone of your information network. Each machine must be up and doing its dedicated function at all times. There are many in any workplace, and it's not always easy to keep them running at peak efficiency. Your SQL device stores your valuable data and makes them available to your users whenever they need the information. Your File Server keeps track of all the files your employees use on an everyday basis and allow for daily offsite backup solutions. 
A dedicated server is simply a computer doing a job, like sending and receiving emails or allowing access to the files that your company uses. We can help ensure yours are doing their job and doing it well.
Our colocation servers are housed in an environment with backup power supply, state-of-the-art fire suppression systems, built-in redundancy and all the necessary features of the modern information age.
Even if you don't choose to move to our colocation environment, we're happy to give you whatever help you need. If you want to plan an upgrade, we're here. If you want to configure your system to be better optimized, we're here. If you want to install a brand new system, we're here. We've helped plan, build and maintain servers for everything, from a small business to enterprise operations.
Our technicians know how to make sure your system is up and running at peak efficiency. If things aren't right, don't waste time. Don't "live with it" for now. We'll analyze the system and offer actionable solutions.
HPUX
HP provides a proven operating environment delivering a resilient UNIX platform that ensures your mission-critical applications are always-on and secure without compromise.
We are big proponents of HPUX. We will help make sure your UNIX system of dedicated servers is always on and always servicing your team.
Linux
Linux distributions are excellent operating systems and quite prominent tools in the IT support industry.
With an open-source model, Linux servers are priced right and highly popular. It is not just a low-cost tool; Linux is used by many of the biggest companies in the world. Why not let Linux be your dedicated server company?
Windows
Windows powers many of the world's largest datacenters, enables small businesses around the world, and delivers value to organizations of all sizes.
We support every level of Windows servers, including 2012. Microsoft understands business, and Windows servers are right for you.
Servers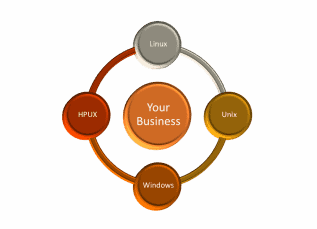 Computer Servers
Dedicated servers always working. Our colocation Server setup is ideal for the modern business world where your data is vital to producing results. Every hour you aren't functioning is lost revenue. We'll keep you up and running and minimize if not eliminate all downtime.
Top Features
Customers Receiving Support:
BUSINESS HOURS
Monday – Friday: 8am – 5pm
Saturday – Sunday: Closed
24 Hour Support Service Available
Use red "Contact Us" button (right)

Use red "We are online" button (bottom)
Disclaimer: Acumen Consulting is an independent service provider of technical service for business networks. We have reseller partner agreements with all of the companies and brands for which we are offering service on acumenitsupport.com. All partner trademarks, registers trademarks, company names, product names, and brand names, are the property of their respective owners. We provide ONLY reseller services for the products listed.