Cisco SPA Phones
We love the simple and effective Cisco Small Business SPA Phones. They offer great features that serve everyone from manufacturing floor staff and cubicle workers to executives and remote employees. You want your employees to stay productive and have access to voice and data communications wherever they and keep your costs stay low.
The SPA series offers wideband audio which means voice clarity is exceptional. In the modern business world it's vitally important that you deliver the message effectively and immediately.
Our technicians are experts with the SPA phones and we can help you with whatever you want to do. If you are interested in completely updating your phone system our team will help you pick out the best SPA phones for your particular business. Every situation is unique and you don't want to purchase more phone than you need but you also must make sure you get enough power to expand as you grow.
If you are just interested in getting your phones configured properly we can help with that as well. It's important that take advantage of the full line of features available on the SPA phones and we can help.
Don't hesitate to call us just to fix a one time problem. Our technicians can come by your office, remote into your network, or simply talk you through the problem. Don't put up with phones that fail to serve your business needs. Call now and we'll get to work!
Wideband Audio
Wideband audio for voice clarity and enhanced speaker quality
Simple Display
Monochrome backlit display for ease of use, aesthetics, and onscreen applications
Easy Installation
Easy installation and highly secure remote provisioning, as well as menu-based and web-based configuration
Great Management
Support for both Session Initiation Protocol for Cisco SPA9000 Voice System, open source, and hosted telephony solutions and Smart Phone Control Protocol for Cisco Unified Communications 500 Series for Small Business
SPA Phones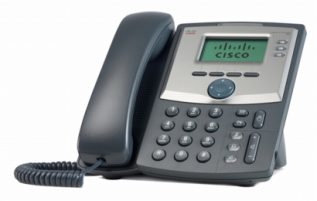 Cisco Phones for Business
The days when only large enterprises used VoIP are over. Because of small business unified communications platforms and new cloud hosting models, any business can enjoy the cost savings and productivity-enhancing features of IP telephony.
Cisco SPA phones allow your company, big or small, to reap the advantages of VoIP phones. Call us today to learn more.
Top Features
Related Technology
Customers Receiving Support:
BUSINESS HOURS
Monday – Friday: 8am – 5pm
Saturday – Sunday: Closed
24 Hour Support Service Available
Use red "Contact Us" button (right)

Use red "We are online" button (bottom)
Disclaimer: Acumen Consulting is an independent service provider of technical service for business networks. We have reseller partner agreements with all of the companies and brands for which we are offering service on acumenitsupport.com. All partner trademarks, registers trademarks, company names, product names, and brand names, are the property of their respective owners. We provide ONLY reseller services for the products listed.