3CX VOIP Phone System for Business
St Louis
3CX Phone Systems are significantly easier to install, configure, and maintain than other VOIP phone on the market. The 3CX IP PBX is the market leader in Windows-based phone systems.
As legacy PBXs reach their end-of-life, businesses are faced with a large purchase of a new phone system. Voice over IP allows you to use your existing ethernet wiring to provide connectivity to your phones. Old punch-down wiring closets are becoming a thing of the past. Voice quality is one of the biggest concerns with VoIP phone systems – using expert installation technicians is critical for a successful VoIP phone system implementation.
Our technicians will take care of all of your 3CX phone system issues and provide continuous support and troubleshooting for your VoIP network. You need your phones to work right the first time and every time. A modern 3XC phone system takes advantage of many of the capabilities of available to us thanks to computer technology. They can be a little confusing to setup and that's where our technicians come into the picture.
Let us help you decided which 3CX phone system is best for your company today and for is expandable to take into account anticipated growth. Once we've found the right system for you, we'll install it quickly and properly so you're employees are up and running as quickly as possible.
Don't throw away the many advantages VOIP phones offer by waiting. These modern phones save you time and money. Call now: 314.333.3330 and let's get started!
Keyword: 3cx st louis
3CX MYPHONE
3CX MyPhone makes it easy for users to take advantage of Unified Communications features such as conferencing, presence, drag and drop call transferring and instant messaging.
While traditional hardware PBX's do not always make such features easily accessible for the end user, 3CX MyPhone brings these and other rich features all together in one easy to use VoIP for business application.
3CX ANDROID
With 3CXPhone for Android, users can make free phone calls via wireless and 3G (mobile operator permitting). Examples of Android based phones are the HTC Desire, HTC Hero, Sony Ericsson Xperia, X10 Mini and Pro, Samsung Galaxy S and the Google Nexus. 3CXPhone for Android works with standards based SIP servers – including 3CX Phone System, Asterisk and popular SIP VoIP Providers.
Unlike other "free" Android SIP phones, 3CXPhone is NOT locked down to a particular provider or PBX.
3CX IPHONE
Works with standards based VoIP/SIP servers – including 3CX Phone System, Asterisk and other popular VoIP/SIP providers. 3CXPhone for iPhone is not locked into a particular provider or PBX.
You are given the freedom of selection, meaning that you can pick and choose your favorite provider or VoIP PBX, switch at any time or use different VoIP providers simultaneously.
Windows-based Phone System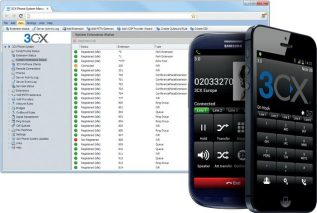 3CX VOIP PBX – About
VoIP phone systems are simply a must have for any modern business operations. The power of these systems dwarfs expensive traditional phone systems and will change how you run your business. Ask us anything and we'll give you straight answers. 314.333.3330
Resources
3CX Website
3CX Manual V11
3CX Manual v12
Updates
Top Features
Desktop Presence and Call Status
Related Technology
Business Hours:
Monday - Friday: 8am - 5pm
Closed Saturday - Sunday
24 Hour Support Service Available
Service Areas
Disclaimer: Acumen Consulting is an independent service provider of technical service for business networks. We have reseller partner agreements with all of the companies and brands for which we are offering service on acumenitsupport.com. All partner trademarks, registers trademarks, company names, product names, and brand names, are the property of their respective owners. We provide ONLY reseller services for the products listed.